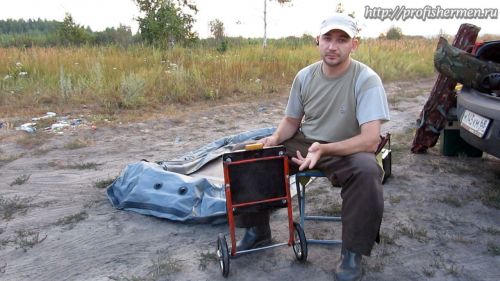 I decided to tell the readers of my site about my
homemade
transom
wheels
for boat
PVC
hinged transom
.
Boat
PVC
hinged transom
have a length of
not
more than three
meters
and
if
for small boats,
wheels
are not needed,
for my
three-meter boats
with soles
-
book
wheels
even
very helpful
for lowering
it
into the water
and back.
The first year of operation I wore a boat alone on the shoulder, it is quite possible and not very hard, but it is when there is no wind, but if the wind is blowing, it is all much more difficult to keep such a sail on the wind speed above 5 m/s is almost impossible. On the Internet to find options transom wheels for boat PVC hinged transom today I managed to run mainly on variants of wheels for boats with fixed transom. When I decided how to make wheels, thoughts were to make their type, like boats with transom glued, but when detailed planning had to abandon them because of the practical impossibility of implementing this idea, and expensive all this, and wanted for free.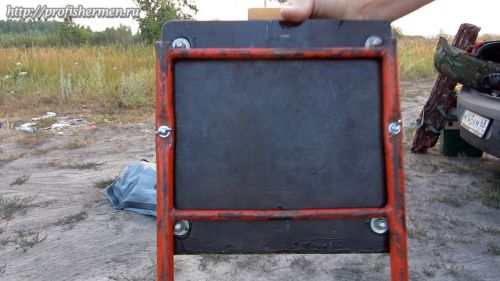 Somehow
I stumbled upon
an old
trolley bags
,
tried
it, and it
just
came up
.
To make
the homemade truck
transom wheels
for boat
PVC
hinged transom
,
had to redo
quite a bit
.
Grinder
cut off
the
truck
all the excess
. Thin axle was changed to a more durable stainless tube. Put wheels from a child's bike. And, perhaps, everything. For mounting frame wheels to tractor hitch transom of the boat PVC I serve only two bolts with a diameter of 5mm, washers and two nuts-lamb. To use larger bolts is not necessary, since their function is only to press the frame improvised transom wheels to tractor hitch transom, and from offset to different sides of the frame wheels keep the four screws at the corners of the hinged transom. Wheels should choose wider than me, broad will be less likely to fall into the loose soil, I put are what I found. Nuts nuts need something to protect from falling into the water, I implemented a simple - with the help of braids.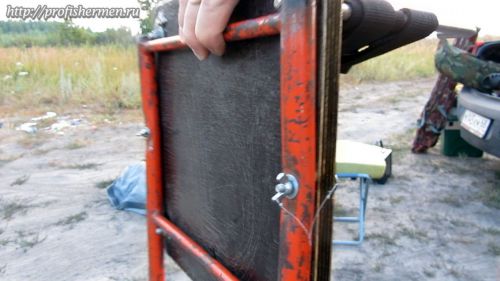 After downloading the boat and packing it in a bag, disconnect the wheels from the transom there is no need, I translate them assembled. Unscrew the nuts whitecaps have only water. After the boat is launched, I Unscrew the wing nuts and remove improvised transom wheels, put them in the boat. After fishing to roll out the boat ashore, transom wheels again put on the transom, and in this form they will be until the next fishing trip.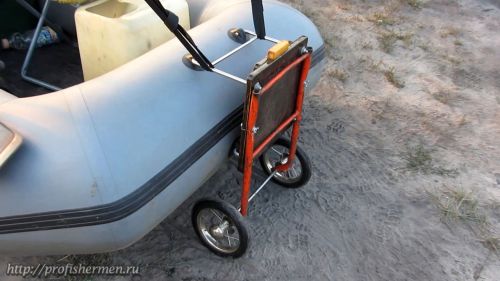 Transom wheels mount trancheuse a number of advantages to transom wheels on the transom mount. During transportation of the boat PVC from your car to the reservoir, it is possible to put not much heavy gear, heavy is better handled separately. After the boat pulled ashore, I put her in the front part, for example, a folding chair, where they fish, and the rear part of the boat hanging on the transom wheels, this boat PVC dries on the breeze, its easier to wipe and it does not get dirty. In General, I recommend owners of boats PVC hinged transom to make something similar, the benefits of using wheels for boat PVC obvious.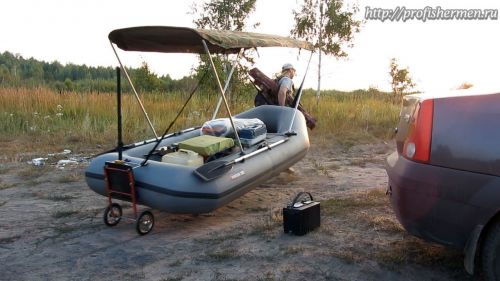 author:
Boronin Roman Nikolaevich