Report on fishing in the Tambov region
Report on
fishing
in the Tambov region
to help
fishermen
from Tambov
and the surrounding
communities
to learn
about where
a
bite
of
this or that place
, on what
fish
and how
to come
to the pond
, do not
think "
fish
or swim
from the
depths of
the reeds
to
fastidious
carp
to fish
. "
Do not
be shy
or
lazy
to write about the
place and
method of
fishing
and fish
enough for all
sites
,
help each other
with the choice of
the reservoir,
where to go
next weekend
to go fishing
.
And,
sure
, if you
helped
the information in this
section
, help
, and other
fishermen
not to be mistaken
with a choice of
places
to
go fishing
, write a
report on their
fishing in
the Tambov region.
The fishermen
of the Tambov region
-
unite!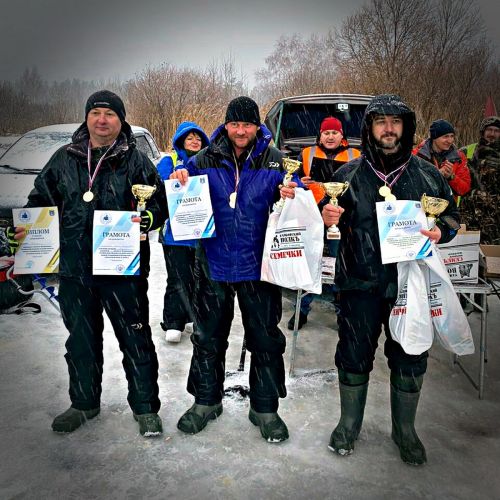 Состоялся Чемпионат Тамбовской области по ловле на блесну со льда 2020. Организаторы соревнования: Управление по физической культуре и спорту Тамбовской области и Федерация рыболовного спорта Тамбовской области. 1 февраля 2020 года на Котовское водохранилище помериться силами приехали 17 команд. В этот раз борьба предстояла не шуточная. 51 рыболов, почти половина из них профессиональные спортсмены со спортивным разрядом «Кандидат в мастера спорта» и два спортсмена  со званием «мастера спорта». Соревнование проходило в один шестичасовой тур.  Протокол технических результатов соревнования выявил победителей. Итак: в командном зачете первое место у команды «Фаворит», это Тафинцев Сергей, Меркулов Михаил, и я Боронин Роман. Второе командное у команды «Фрегат», это Чуйков Игорь, Лисаконов Максим, Грешных Олег. Третье командное место у команды «Подышать», это Ноздрюхин Александр, Дмитриев Алексей, Пронин Антон. В личном зачете золотая медаль у меня Боронина Романа Николаевича, серебряная медаль у Меркулова Михаила Владимировича и бронза у Лисаконова Максима Евгеньевича.