Warning
: Call-time pass-by-reference has been deprecated in
/home/profishe/public_html/plugins/content/mp3browser.php
on line
95
Warning
: Call-time pass-by-reference has been deprecated in
/home/profishe/public_html/plugins/content/mp3browser.php
on line
95
Warning
: Call-time pass-by-reference has been deprecated in
/home/profishe/public_html/plugins/content/mp3browser.php
on line
176
Warning
: Call-time pass-by-reference has been deprecated in
/home/profishe/public_html/plugins/content/mp3browser.php
on line
176

How to choose
a gift to her husband
is
a fisherman
?
What to give to a fan of
summer or winter
fishing
?
Than
avid
fisherman
for
fisherman's Day
,
23 February
, birthday
or New year
?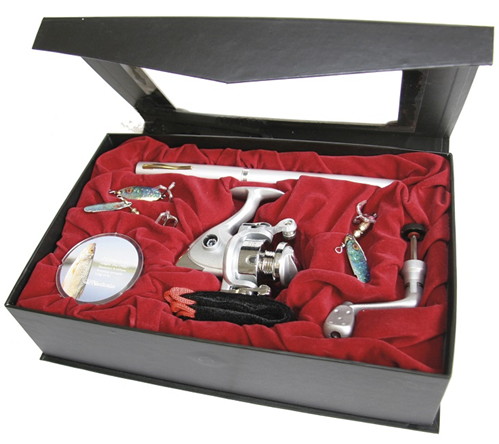 Gift of a man-fisherman should certainly be in any way associated with fishing. When choosing a gift you need to consider:

1) time of the year, preferred for fishing;

2) the method of fishing that is used most often (fly fishing, spinning, trolling, fishing with a float or bottom fishing);

3) fish, which bestow loves fishing.



What to give the angler?

To choose a good gift for the fisherman's birthday, Day fishing or other celebration, you will have to carefully consider the preferences of recipients. But to make it easier to determine the choice, you need to know what kinds of gifts for lovers of fishing exist at all. In General, gifts for fishermen can be divided into two main categories:

• practical, useful fishing;

• a souvenir.



The first category is the most universal, that is, useful gift you can give anyone. This can be a gift to her husband is a fisherman, friend, father, grandfather, colleague or boss. By the way, men prefer to receive a gift of helpful things that will be used. To practical gifts include gear (as whole sets and individual components), equipment, accessories, creating the comfort and ease of fishing: from the gear box and thermos to inflatable boats and sonar.



Practical gifts

Best gift for a fisherman to buy something useful, something that will come in handy. It can be:

• fishing rod fully assembled;

• individual components of the fishing rod;

• special clothing;

• sets of fishing equipment and tools;

• artificial bait;

• accessories for snap.

The choice also depends on your financial capabilities. The value of the gifts may vary from 300-400 rubles (for example, for a set of jigs for winter fishing) to 20-30 thousand rubles (for the quality of the sounder). But the most welcome gift for any fisherman – both for beginners and for the experienced angler – rod will always be. Prices on fishing rod varied: there are both models of the economy, and expensive spinning rods for professionals.


The fishing rod as a gift: what to choose?
Rod is the best gift for the fisherman on any occasion. For a beginner, still learning his catching, the perfect prezent will float fishing rod, for the more experienced – spinning.



In favor of that choice should be stopped on this version of gift, is the fact that even high-ranking officials give fishing tackle. So the Prime Minister of Japan Shinzo Abe gave birthday to the President of Russia Vladimir Putin spinning fishing kit.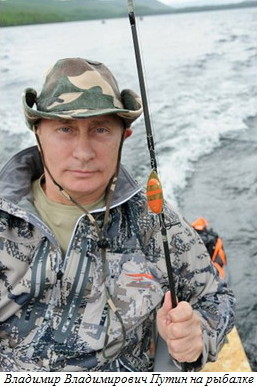 But before you choose a fishing rod as a gift, you need to find out what kind of fishing he enjoys the fisherman: depends on what kind of tackle you need to buy. There are ready-made kits for every type of fishing, and their cost is different:


• equipped with float fishing rod will cost 2-6 thousand rubles.;

• fishing tackle for bottom (feeder) fishing is 8-12 thousand rubles.;

• set to fly fishing – about 3 thousand rubles.;

• spinning – from 3 to 9 thousand rubles.;

• set for trolling – about 7 thousand rubles.



We should also highlight fishing rod for ice fishing. The cost of such gear is in the range from 100 to 2000 rubles.



Often the price of the Chinese rods below here. However, selecting the rod, reel or bait as a gift, it is better to give preference to a recognized, well established brands. High quality workmanship, convenience and different catchability fishing tackle companies such as Shimano, Daiwa (Japan), Kosadaka, Salmo (Latvia) and others. For example, to buy the reel Salmo enough to order them in any decent online store.

If as a gift to her husband-the fisherman on February 23, you will present an expensive spinning a set or stocked tackle for feeder fishing, it is very delighted with his angler. You can be sure that on March 8 he, too, will appreciate a pleasant surprise.

Fully stocked fishing rod as a gift to a fisherman to buy simply and solemnly presented nicely. But if it is not possible to give ready the tackle, it is possible to give separate components. The rod consists of rods, reels and equipment, including fishing line or cord, swivels, lures, floats, sinkers.
Rod
The rod is a major component of fishing rods, which are long thin stick conical shape. It is made of wood, metal, fiberglass or carbon fiber. The rod is selected depending on the method of fishing and the species you plan to catch.
Float fishing rod with universal point of view, species of fish, that is such a tackle you can fish, peaceful fish, and predators. If you decide to give the rod for float fishing rods, you can choose a telescopic or plug. Most commonly used parabolic rod (slow) system and the average length is 4 to 5 meters. It is best to choose carbon fiber rod: it has a small weight, convenient to use, suitable for catching the various fish. The perfect gift for the fisherman will be fishing rods for float fishing rod Wolf 4509 or Shimano Alivio CX TE GT 5.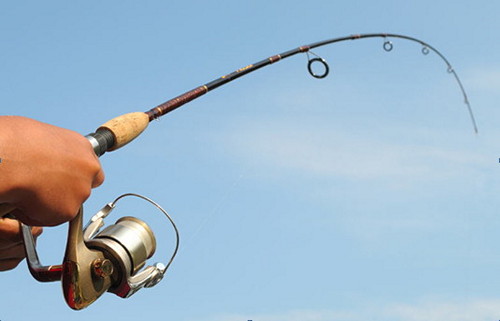 Rod is the best gift for the angler
For spinning enthusiasts need special spinning rod. The most common of gear anglers have a fishing rod medium action and a medium-light class. If you decided to give spinning a gift, we recommend you to select optimal rod length: 2,1–2,4 m. for Example, a great rod for gift – Opirus Black Hole. For transportation of spinning it is better to purchase a suitable tube.
For the lover of good bottom fishing gift will be a feeder rod. The most convenient length of 3.5 to 4 m. it is Advisable to choose a fishing rod of carbon fiber: this material has a high durability and reliability. As a gift will suit the angler Shimano Joy Feeder 300.
Fly fishing is a special type of fishing for which it is recommended composite rod length 3 m, which can be broken down into 2 or 3 parts. The less it weighs, the better. Rods for fly fishing are one-handed and two-handed, they are divided into 12 classes. Average and are the best choice for gift can be considered class 5 (one-handed rod). Do not worry that go wrong with the choice – angler will always find someone to swap.
The rod for trolling should be firm, but flexible, as the method is designed for catching large predatory fish. To present suitable average length (from 1.9 to 2.4 m) and a medium-fast action. For example, you can give Salmo Power Stick TROLLING CAST.
Coil
Fishing reel is a device for winding and storage of the fishing line. Coils are inertia, spinning and baitcasting. The former is applied to fly fishing and float fishing rods, and the second for spinning, float or bottom fishing. Multiplicatory coil – the most powerful, they are used for trolling, but also suitable for equipment of spinning.
Pictures of the coils depend on the quality and manufacturer. There are cheap Chinese models and Japanese – expensive, but high quality workmanship, reliability and long service life.
The cost inertial coils is approximately 500-3000 RUB Best model for gift – Nelma.
Spinning reels are a bit more expensive – from 1 to 10 thousand rubles. Excellent coil this type Shimano Rarenium Ci4 or the Daiwa TD-Sol suitable for spinning and float fishing rods.
The perfect gift for the fisherman, Amateur trolling, will be the baitcasting reel, SHIMANO Corvalus 401. Pictures baitcasting reels can vary from 1.5 to 20 thousand rubles.
Fishing reel
Choosing a reel, be aware that some of them are only suitable for right-handers. For the fisherman-left-hander's best to buy a spool, a handle which can be adjusted to a suitable position, for example, instantaneous Tica Splendor SJ.
To correctly select components fishing rods needed for a certain type of fishing, you will help sales consultants fishing store. Do not waste time on self-study of the range, better tell the consultant what type of fishing is preferred for the receiver, what kind of fish catches and at what time of the year. The seller will offer you the most suitable products, you will only have to compare prices and choose what you need.
A gift for winter fishing
Ice angler needs a special winter rod. To be sure that the gift is for winter fishing will be applicable and will not be abandoned in the far corner, the first thing to find out what the fish prefers to fish for the receiver: peaceful or predatory. Depends on the type of fishing (float, fishing lures, trolling), and bait.
The right gift for the fishing enthusiast in the cold season – a quality winter fishing rod with a comfortable grip, short spinning and durable inertial or an inertialess reel. When you select a note on the handle: it must be of cork or other insulating material, so the hand of the fisherman froze. Very good, if included with the rod is a set of nods and stand-legs. Very popular with fishermen winter roads are rods QL-1101 Kutbert (for fishing carnivorous fish) and Salmo Ice Lider (for predators).
In addition to gear can give fishing accessories or warm clothes for winter fishermen (underwear, insulated coveralls and a jacket, not soaking through winter shoes).
Tip! If you haven't decided where to buy a gift for fisherman, then choose fishing online store. Usually have a wide assortment and delivery throughout Russia.
Fishing accessories
Anglers for whom fishing is not just a hobby, but a way of life, usually there are several different kinds of rods and spinning rods. In this case, a great gift would be any additional accessory, such as a landing net, fish tank, backpack or fishing gear box, folding stool, tent, inflatable boat, camping cookware or a set of fish (if fishing takes several days), a thermos, a box for storing lures and jigs, motoledobur (for fans of ice fishing).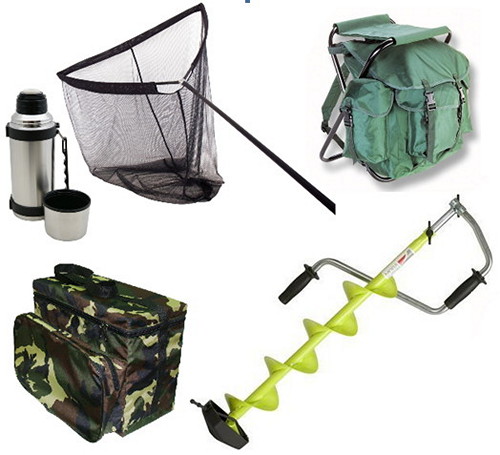 Useful gifts for the fisherman
You can buy special kits for fishing as a gift, including zevnik, extractor, knife, a sharpener for hooks, rulers, scales for weighing the catch. These tools and accessories will be needed quite often.
A set of lures
A set of different lures, crankbaits or jigs are a great gift for fishing, but only for the novice fisherman. Newbie ready to experiment with a variety of baits, given to him by friends or family. But experienced anglers, this kit can be frustrating, because he was used to choose each lure, each Devon or Twister: among his tackles are no random baits – all carefully chosen and tested by time and experience.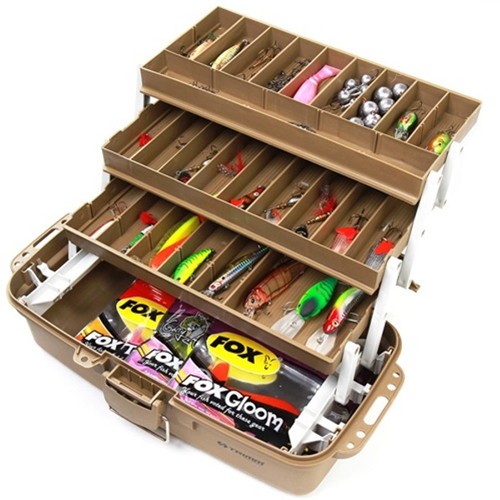 A set of spinning lures
Souvenirs in the gift fisherman
A separate category of gifts – Souvenirs. A gift to a friend with a fishing theme that could lift the mood and is appropriate for any holiday. This category can include a figurine of a fisherman, piggy-fish photo frame with the appropriate fishing decor, gift edition books about fishing, t-shirt with funny slogans, medal, pen-rod or other souvenir gifts. These presents are fun, interesting, but useless, so it is better to give practical gifts.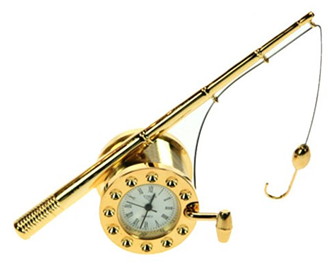 Souvenir watches-rod
Learn the preferences of the angler, and you can easily pick the best gift for the fisherman on birthday, anniversary, February 23 or other celebration.