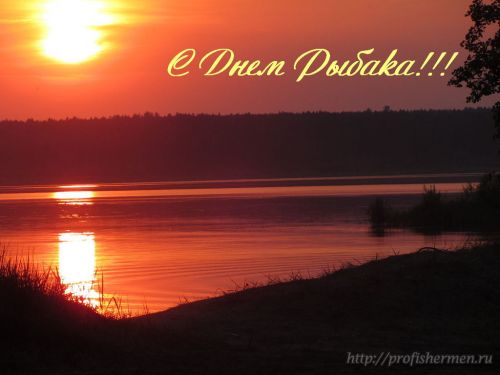 Every summer, on the second Sunday of July we celebrate a truly long-awaited holiday for our brother fisherman fisherman's Day.
People who are not aware of our fishing fraternity, is often confused fisherman's Day with another fishing celebration of the world day of fishery. But devoted fans and sportsmen, the fishermen on the contrary, include fisherman's Day to truly your celebration; and the other holiday include, as if, for the professional fishermen of fishing community professionally. And now, every second Sunday of July, after November 1, 1968, the day when the decree of the Presidium of the Supreme Soviet of the USSR on holidays and memorial days, was installed holiday fisherman's Day), we celebrate the Day of the fisherman.

How are celebrating the day of the fisherman? Increasingly in this auspicious day held various fishing competition between fishermen, sportsmen, where the best fishermen get cups, medals, prizes and another sports categories. Also professional fishermen arrange the holiday itself the contest, where the best fishing crews receive an additional award or other award. Many people go on the eve of this holiday on a fishing trip with an overnight stay so nice to celebrate this peace for all fishing lovers holiday. After all, for many fishermen this hobby is not just a passing rest on the nature and the meaning of life, philosophy, and something else that cannot be expressed with words and, especially, to explain to the uninitiated what the gag we get up early in the morning before dawn, to spend the water even a little time! And even modern businessmen do not miss your chance at this day, to the Day of fisherman earn a little money, arranging to pay ponds their fishing holidays. And of course, love and understanding, our family will never forget to buy at the store for their provider lively fishing card in order to please all family members. And finally, cheerful picture about fishing.