Fishing
in
the cold season
is very interesting and has
its own characteristics
.
Many anglers
prefer
it is
winter
and not
summer
fishing.
If you decide
to fish
from the ice
, you should know
that the preparation
should be thorough.
Need to prepare in advance
everything you need
for winter fishing
.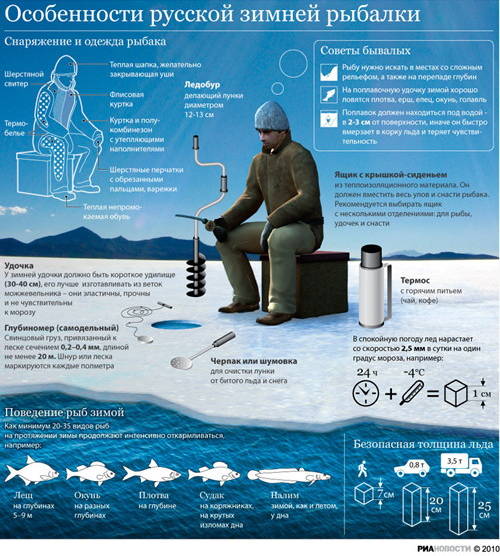 Features Russian winter fishing. RIA Novosti, Infographics*

Outfit
The first thing you need to take care of warm clothes. Indeed, during the winter fishing have to spend a few hours on the ice, so to avoid hypothermia and not get sick, need to think carefully about your wardrobe.
Underwear
For the best heat retention fishermen prefer to wear underwear. It can be purchased in stores offering fishing accessories and clothing, or in sports shops. This underwear is made of natural and synthetic materials, good warmth and moisture from the skin outwards, that is "breathing". If not the underwear, it can be replaced with wool.
Outerwear
Mandatory attributes in the outfit of a fisherman – a warm sweater, wool pants and jumpsuit. Winter fishing is better to give preference to the jumpsuit, and not the press, because the first method allows not chill the waist.
Top can put on a light coat length just above the knees. Clothing should be roomy in the shoulders and chest, so as not to hamper your movements. The modern solution is a special jacket. Such coats are not soaking through materials that will not be damaged even wet snow. In addition, some models of outerwear for fishermen have special inserts and is able to keep a person on the surface, if he falls into the water.
During the ice fishing will need a scarf and warm hat. It can be fur or knitted, but in the second case, it is important to windproof hooded jacket.
Socks
Feet should always be warm, so to protect the legs from cold, it is recommended to wear thermal socks, made on the principle of thermal underwear. If there are no socks, we fit a simple wool socks, over which wear cotton, and the top and nylon (all layers not stray socks when walking).
Shoes
Since ancient times, while catching fish from the ice fishermen wore boots. This is a nice, warm, comfortable shoes, but it has the disadvantage that the boots get wet, if the surface of the ice there is water or wet snow. Therefore, additionally on top of them need to wear galoshes or overshoes included with chemical protection.
Fishers for whom fishing is not a rare phenomenon, and a favorite pastime or even a way of life, it is better to buy special shoes for the fishermen. It is made from materials that can withstand the severe frost has an insulated layer, and a thick sole not slippery on ice. This is exactly what you need for winter fishing.
Mittens
In choosing a protection from the cold for the hands there is no consensus. Some fishermen prefer woolen gloves with a cut thumb and forefinger, the other feather mittens that can be easily reset with hands if necessary. Sometimes mittens sewn to the ends of the cord, which is passed inside the sleeve, so as not to throw the gloves on the ice.
Tackle
That fishing has been successful, it is necessary to thoroughly prepare the gear. In the winter often use the float rod, tackle for fishing with jig or Troll-bait.
Rod
Winter fishing rod miniature: usually the length of the whip is about 15-20 cm fishing Tackle for trolling can reach 70 cm. the Handle is made of neteploprovodnym materials: cork, foam, wood. Rod definitely is equipped with a coil, for this purpose, most commonly used inertial, sometimes spinning reel. The top of the whip can be additionally equipped with nod – alarm bite, simultaneously to make the "game" jigs more natural.
Usually in the winter fishing takes 2 to 5 rods, as fishing is carried out simultaneously in several holes.
Fishing line
For winter fishing is being used more slim line than for summer. For float or mormyshkas tackle line thickness is from 0.08 to 0.12; when trolling a fishing line worth taking thicker – 0,14–0,16, so that the predator was not able to tear it up. You should prefer colorless, transparent fishing line, but a valid green or darker. Winter is not recommended to use the braided line, because at low temperatures it loses ductility and significantly inferior to monofilament fishing line. It is best to take a supply of twine different thickness to choose more suitable for the situation already in place: sometimes the fish is naughty and does not bite, if the line is too thick and noticeable.
Float
Floats for winter fishing are conical or cylindrical. They are usually painted in bright colors. The float is only needed for float fishing and when fishing a jig or trolling don't use it.
Hooks
It is recommended to apply a thin, sharp hooks, the bait did not lose its appeal when spitted on them. For catching small fish will take the hook No. 3-7, for the predator – No. 8-10.
Jig
Jig – a small artificial lure with a hook, its size can be from 1.5 mm to 6 mm. Materials, shapes and colors well as a variety of lures: lead, tin, tungsten pellet, drops, "imps", "ants" and other jigs are painted bright fluorescent colors. It is desirable to have up to two dozen a variety of jigs to be sure to have one that will be attractive to fish.
Baubles
Spoon for ice fishing use only experienced, seasoned anglers, and each of them has its own fishing technique and its "game" for trolling. Such bait is good for catching pike, Zander, Chub, perch.
Bait
The most common bait used bloodworm, maggots, spinners, wax moth. These larvae can be bought in the fishing shop. To attract fish as well to artificial lures.
Bloodworms can be used as bait in the hole. Several larvae lowered into the hole, and one of them is crushed in water to turbidity attracted the fish.
To catch a predator needs a live bait, but there is no need to bring it with you, as a suitable small fish can be caught in the same pond.
Accessories
For a successful ice fishing gear alone is not enough. There are additional nuances in this kind of fishing, so without some accessories can not do.
The ice pick
The ice pick is a simple, convenient tool in the Arsenal of a fisherman. You can use it to punch the holes, and to test the strength of ice in front of him, with the movements on the congealed body of water. The work on creation of the ice hole is quite time-consuming, so it was replaced with screws.
Screws
The most widely auger screws. They easily cope with the task of drilling holes and compact when folded, which is very convenient in transportation. Currently manufactured petrol units, as well as devices with electric. They greatly simplify and accelerate the process of breaking down ice, but weigh in at 3 or more times heavier and much more expensive. So better to give preference to hand screw the screws. In addition, it is desirable to have a set of spare knives for him.
Fishing box
The box for winter fishing – an irreplaceable thing. It performs two functions:
storage gear, accessories, and then catch;
comfortable stool for sitting.
Sometimes it takes quite a while to wait for a bite, so without the convenient drawer-stool not do. It is necessary that the upper cover is upholstered metalloprotein material (cork, foam rubber). Buying a fishing box, note the number of branches.
The scoop
When snow or a hard frost quickly covered the hole with a layer of ice and snow. To remove it, you need a scoop (or skimmer) is a convenient device that looks like a large spoon with holes. Clean the surface of the water frequently, so it is best to have this accessory for winter fishing.
The hook
If you plan on catching small bream yeah perches, the hook is not useful. But if the purpose of fishing – pike or other large predator, it is possible to extract it from the water you will need a convenient device.
Tent
To protect from snow and cold biting wind in the open space of the tent is necessary. Fishing tents are usually of small size, with bottom or without it. This is an optional accessory, but fishing is becoming easier and warmer. To buy tents for winter fishing in any major fishing online store.
Depth gauge
In fact, the depth gauge is a load on the cord with the markup. It is used to determine the depth of the reservoir to fish at the bottom.
Extractor
A device designed to extract the hook from the fish mouth, is called the extractor. Accessory is needed in order to avoid injury on the teeth of a predator, and if the fish is deeply swallowed hook.
Container for bait
Storage of baits required capacity that does not transmit the cold. This box will allow you to keep the bait lively and more appetizing to fish. An amphipod stored in mormina, bloodworms and maggots in modelinia.
Thermos and food
Ice fishing be sure to bring a thermos of tea or coffee and food to eat in between bites (for example, sandwiches, bacon). This will help keep warm during the long stay in the cold.
Additional equipment
Additionally you can take with you on winter fishing sonar, chemical heating pad, fishing glasses, leskovar, the tackle, which is a device for sharpening hooks, disconector. Their presence can make it easier to stay on ice in the cold season, but this is an optional accessory, as without them the fishing will not be less successful.
Winter fishing is challenging due to the harsh weather conditions, but it has its charm and undeniable benefits. Therefore, many fishermen prefer this hobby, looking forward to winter and go fishing as soon as the ice reaches the desired thickness. Bring everything you need for winter fishing, go on frozen ponds, follow the rules of safety on ice and enjoy an enjoyable pastime. It is possible that after the first ice fishing, you will become an avid fisherman-winter road. Good luck!
* Features Russian winter fishing. RIA Novosti, Infographics http://ria.ru/infografika/20100122/205838592.html